Obama: 'I understand' why Americans want to know when COVID-19 mandates will end
https://www.foxnews.com/politics/obama-i-understand-why-americans-want-to-know-when-covid-19-mandates-will-end
"The science says it's the right thing to do," Obama said in reference to COVID-19 mask and vaccine requirements to a crowd of Murphy supporters in Newark. "You do it because you're not just protecting yourself, but people you love, people who are vulnerable. (then he went back to the old Obama) But, you know, I don't know how folks just decide everything's got to suddenly be political."
This Dude is the poster boy for complicating issues and turning everything into a political nightmare, and he makes a statement like that!!
The initial part of his message was good; "You do it because you're not just protecting yourself, but people you love, people who are vulnerable. There he made sense. Then did an about face and went back to the Old Obama we have grown to know for what he is, a sliver tongued hustler.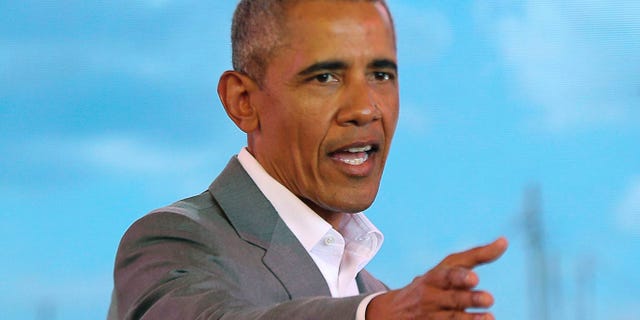 Possibly his speaking companion was out of wack. When using the teleprompter he always is firing on all 8, and is one of the best in the business. Shooting from the hip at times; not so good.
He was at the right place at the right time when THE MONEY people were looking for a charismatic black man that they could manipulate and control if elected president. Car-mella is a Carbone copy of what the game. Neither she or TMC were highly qualified for their prospective positions. Put enough $oldi behind anyone, and they are a shoe in.
TMC was supposed to be the Great Black hope for his people and even got that one wrong. Fortunately for the country; the end result was not what they expected.
After the Obama disappointment, black voters want more than …https://www.theguardian.com › commentisfree › dec
Dec 5, 2019 — Obama made me feel hopeful until he didn't. That's why when Kamala Harris announced her race, I had to look carefully at what she …
https://blogs.lse.ac.uk/usappblog/2019/04/30/obamas-legacy-is-as-a-disappointingly-conventional-president/
Did TMC really say; I don't know how folks just decide everything's got to suddenly be political." when he was one of the best at stirring up an hornets nest.
As a consolation prize, I will give him a 50% for the first half of his comments. Half of a pie is better than none.
Long before I was pretty well informed on politics, I always thought that politicians were in the upper echelon of respectable occupations. I was never so wrong about anything in my life.
REPEAT: There is an old saying; prostitution is the oldest occupation; I say a fast talking, sleazy politician was her pimp. Tell me, who was 1st??
Did TMC really say; I don't know how folks just decide everything's got to suddenly be political."??
I can't hear you, I have a banana in my ear.