What happens if Cuomo resigns or is impeached?
New York Lt. Gov. Kathy Hochul would take over if Cuomo resigns or is removed from office
State Attorney General Letitia James announced on Tuesday that her office's investigation into sexual harassment allegations against Cuomo – which included interviews with 179 people – determined that the governor sexually harassed multiple women, including current and former staff members, from 2013 through last year.
Now that J J ( Jokin Joe) is on the bandwagon asking for Cuomo to step down, we will see just how bullet proof the Hot Pant/ladies man governor really is.
According to reports: Under Cuomo's directions, as many as 50% of the deaths went unreported.
Cuomo administration underreported Covid deaths in nursing …https://www.cnbc.com › 2021/01/28 › cuomo-administr…Jan 28, 2021 — New York underreported Covid deaths in nursing homes by as much as 50%, according to a new report from New York Attorney General Letitia …
Along with the sexual harassment allegations leveled at him, Cuomo has other allegations facing him for his mishandling and covering up reports of Covid cases in his state, all for the purpose of making  himself look good. Gigantic egos can come back and bite a person right in the crotch.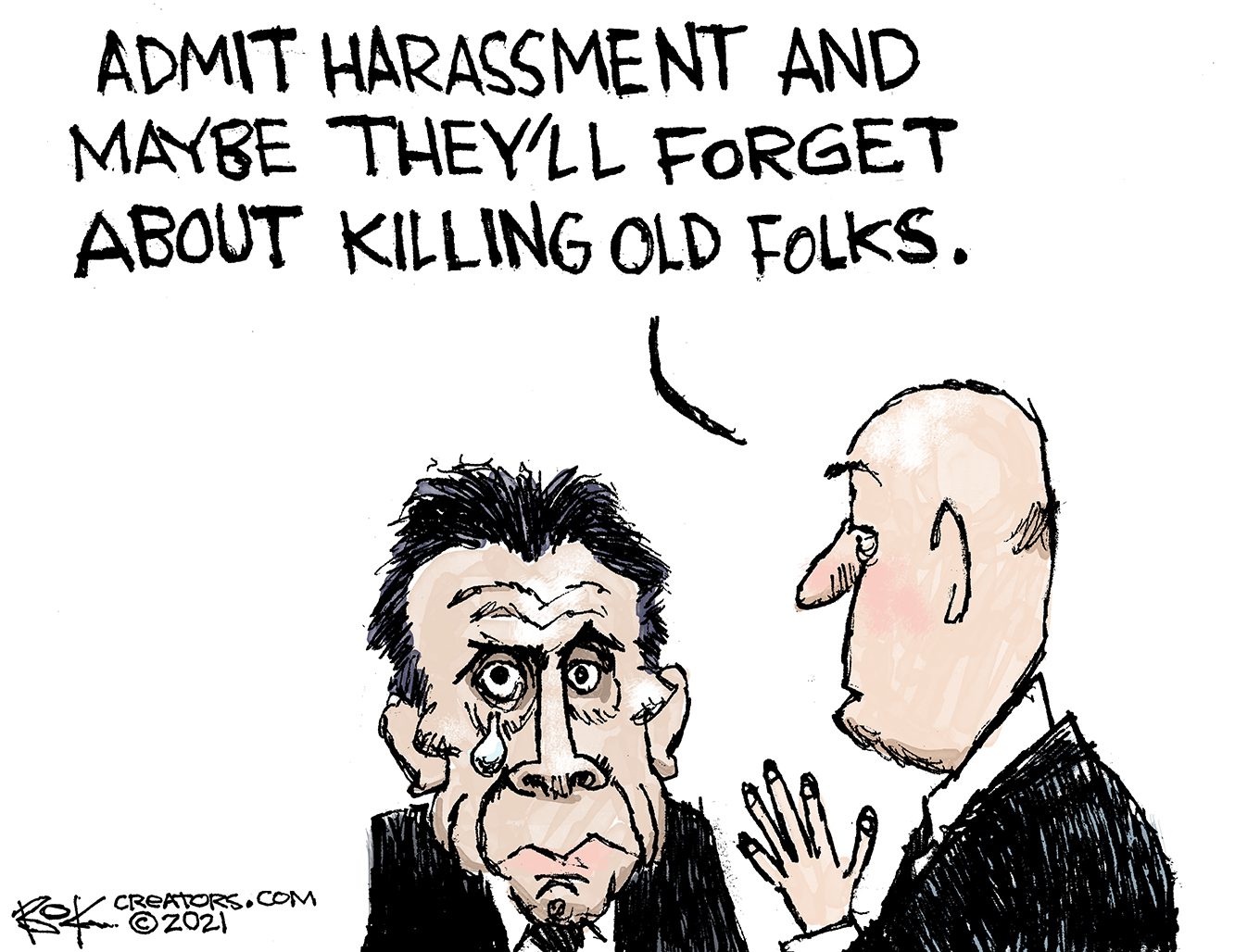 If we put the Covid deaths cover-ups on top of the sexual harassment charges; I would say that 1st, Cuomo is a narcissistic, ego maniac.
2nd he is a stone cold liar for his denial with ice running through his veins, deliberately lying to the families of the deceased. He acted like they never existed.
The real corker in this drama is; Ego Man Cuomo denies any responsibility for his actions and refuses to step down. That in-itself takes a lot of goolunies!!
I have pretty much lost faith in the judicial system, especially where a high roller is concerned. Although there have been a few, it is been far and few between where someone with a celeb rating is held accountable. Let do a wait-see if Cuomo will trade his 3,000.00$ vine for a state issued orange suit. Don't hold your breath.
This article shows just how much power guys like Cuomo have.
https://www.nbcnews.com/politics/politics-news/cuomo-violated-state-federal-laws-report-finds-will-he-be-n1275859
The problem is, there are too many, if's, and's, butts and loop-holes these people use to hide behind. If Cuomo was not who he is and just a regular Joe Blow, he would have been on the inside looking out already.