Alleged Chinese smugglers publicly shamed for breaching Covid rules
By Nectar Gan and CNN's Beijing Bureau
Updated 6:29 AM ET, Thu December 30, 2021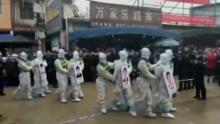 It would only seem fair to me that the mad scientist (possibly even Fauci) and government officials who were behind/sanctioned the development of this monstrosity, were also paraded down the middle of the streets and on Chinese TV for the entire world could see exactly who THE MOTHERS are that were behind this.
I don't care what kind of bullshit reasons (Scientific experiments) they come up as to why they need this very dangerous research, developing these viruses. In my opinion they are more harmful than good. The risk is not worth the end result as we have clearly found out. There are certain areas that should not be tampered for the sake of mankind. We can see by the outcome of their scientific experiments exactly what kind of catastrophic results may result.
Have these fools ever heard of the cliché; don't mess with Mother Nature??
I am still leaning toward the possibility that Charlie Chan purposely developed COVID-19 to try to infect the world. This being part of his obsessive desire to turn overtake the world.
Still to this day the Chinese government has never accepted responsibility for developing COVID-19. If this monster was left unattended, if the world did not have access to computers and the Internet to spread the word, the end result of this would be billions of times worse than what we are seeing now.
In many critical situations involving the upper echelon, we rarely see accountability/justice being served. All they do is lawyer up – deny – deny – deny and drag it out for years until it is finally forgotten. This is going to be a hard one to dismiss.
Before the dust settles and before all is said and done; there absolutely should be some accountability. BUTT I doubt if that day will ever come.