Joel Osteen's Houston church had $600K inside wall from 2014 robbery, plumber claims
A caller told a Houston radio station that he found 500 envelopes full of cash and checks behind a toilet in the church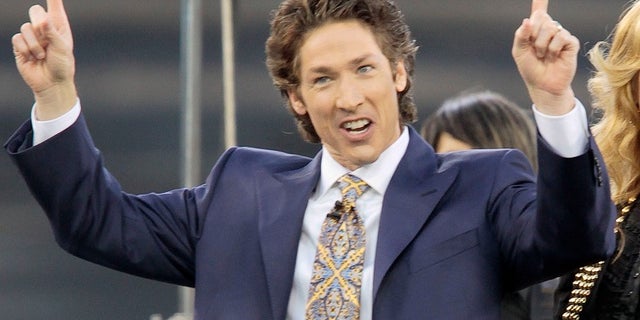 Anyone that can not see through this charade is a fool. This BOY goes lower than the Limbo Rock.
This just goes to show how much money this combo Super thief/con man has that he or one of his people stuffed 500 envelopes filled with cash inside of a wall of the church's restroom after declaring a robbery, and completely forgot about it.
It has always been mind boggling to me how some people are so excessively gullible being conned into donating their hard earned money to these charlatan/super/thieves/conmen that run the bogus religious money-machines. There are 100's of them constantly spreading their poisonous sermons. Best of all the majority are living 1000 times better than then people in their congregations and flaunt it. That does not seem to bother the flock, the keep dropping their eggs in the basket.
Just to mention a few:
The 10 Richest Pastors in the World
Pastor Enoch Adejare Adeboye – $39 Million. …
Joel Osteen – $40 Million. …
Benny Hinn – $42 Million. …
Chris Oyakhilome – $50 Million. …
Uebert Angel – $60 Million. …
Pat Robertson – $100 Million. …
Emmanuel Makandiwa – $100 Million. …
Ayo Oritsejafor – $120 Million.
In March 2014, Lakewood Church reported that $200,000 in cash and $400,000 in checks had been stolen, in addition to some credit card information.
At the time, the church said the missing money had been insured. Since then, no arrests have been made in relation to the theft.
Holstein has so much money he forgot about the $600,000 he had stuffed in the envelopes behind the wall.
This is the same supposed man of God that locked the doors of his palace and turned away desperate people from his church that were seeking shelter from hurricane Harvey. That shows just how much he really gives a shit about the welfare of people in need. The only person that Joel Osteen looks out for is himself.
It really speaks volumes that the supposed man of God at a critical time would deny desperate people in need. I think the guys are scumbag.
Joel Osteen: 'We never turned away' Hurricane Harvey …https://www.usatoday.com › news › nation › 2017/08/30Aug 30, 2017 — Famed Houston Pastor Joel Osteen on Wednesday shrugged off a social media storm claiming he initially refused to accept evacuees at his …
Two things: although he is a despicable worm, we have to give Osteen credit for being exceptionally good at what he does; # 2 how stupid are the people that keep throwing dead presidents at him.
It really surprises me how do these parishioners/religious fanatics keep throwing good money after bad supporting these charlatans they claim to be holy men.
Just like with the Catholic religion that has paid out billions of dollars to settle pedophile cases, yet every Sunday there are droves of fools that cannot wait to drop that donation in the collection basket. In essence; they're paying the legal fees  to pay off the victims of the pedophiles.
I can think of 1,000 different ways to spend my hard earned money than supporting scam snake oil salesman.
Gotta be a whole bunch of sinners out there that get comfort in making a weekly appearance/donations.
$64,000 question: Should we believe that Joel Osteen consciously knows that his operation is nothing but a sham. You betcha; he and the other hustlers know exactly what they are doing, and laughing all the way to the bank.
Initially I thought Osteen hid the money in the walls to keep from declaring it on his taxes; I guess my suspicions were right. He is not only a thief but a super thief that the IRS should be taking a close look at.
In March 2014, Lakewood Church reported that $200,000 in cash and $400,000 in checks had been stolen, in addition to some credit card information.
His Lakewood Church has more than 43,000 people attend services each week, has become one of the largest churches in the U.S. Osteen's weekly television program is viewed by more than 13 million households in the U.S. and millions others in more than 100 nations around the world.
Let us assume that the average envelop contains 10.00$ – gotta be double that. Based on 4.5 weeks per month, that equates to 1,930,000.00$ a month. The BOY is raking in. Not bad for a professional bull-shitter.
Keep dropping those envelopes folks. The poor guy has a house payment coming up, need tires for his Bugatti and wants to trade up on his jet.
There is a sucker born every minute.
COMMONSENSE