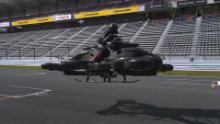 With a battery operating motor, this machine can reach speeds up to 60 MPH and run for 40 minutes.
I would suggest, if someone going to push the time limit, they better fly close to the ground.
The Hover Craft will set you back 680,000$ and .10 cents.
70 years ago when we would got to the movie theater we would see futuristic machines like this driven by Buck Rogers, never thinking they were possible. Well folks, the future has arrived. There does not seem to be an end to the ingenuity of mankind.