Elias Sare• 1stLockdown Chronicles3h • 3 hours ago
De Blasio:"Wherever you go—movie theater, gym, restaurant—you're going to be safe,"
When was the last time (Warren Wilhelm) his real name, walked down the mean streets of NY after sunset without 10 body guards following him??
I have repeated this so any times, it makes my head swim. These political and upper crust fools do not live in the same world as the majority of the citizens of this country do. They can not connect with the common man. The ridiculous statement Warren made is proof of their disconnect. "Wherever you go—movie theater, gym, restaurant—you're going to be safe," GMAGFB!!!
Ask the citizens of the Big Apple and The Windy City just how safe they feel.

NYPD: Shootings up 166%, fueling NYC crime surge – WTENhttps://www.news10.com › news › ny-news › nypd-sho..
May 19, 2021 — NEW YORK (PIX11) — Crime rose by 30.4% in April 2021 compared to April 2020, an NYPD report released Wednesday said.
This is his own city and he does not know what the hell is going on. It doesn't surprise me.
This dude better switch dope dealers. He must be getting some low grade weed.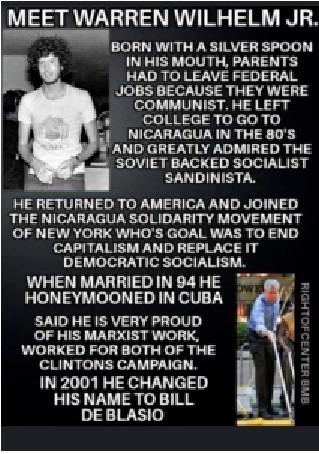 And the fool keeps getting elected.
2013 Bill de Blasio is the Democratic mayor of New York City in New York. He announced he was running in the 2020 presidential election on May 16, 2019. De Blasio suspended his campaign on September 20, 2019. De Blasio was first elected mayor in 2013 and won a second term in the general election on November 7, 2017.
Maybe it the bad dope the fools that voted for him are smoking.