Tulsi Gabbard Demands Chicago Mayor Resign for 'Blatant Anti-White Racism'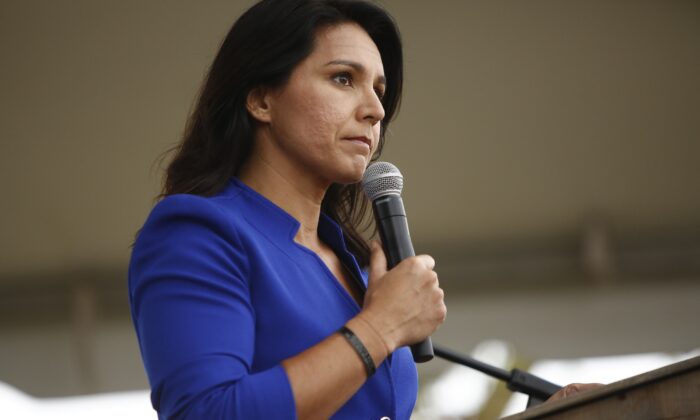 Former Rep. #TulsiGabbard accused #Chicago Mayor #LoriLightfoot of "blatant anti-white racism" for only granting interviews to "black and brown" reporters.
I think I may have voted for Gabbard based on the background she has if she was running. She would be the ONLY person running for president in many years that served in the military.
Compare what the Lighthead accomplished and then look at Gabbard.
It seems that Lori Lighthead thinks it is OK to BLACK BALL white folks from interviews. If that was a white dude making that kind of racial segregation, they would be :
Where do these antiwhite folks get the #gall/balls/nerve to display their #hatred so openly?? It is OK to have your own personal feelings, BUTT to be so bold and obscene to wear them on your sleeve as she does is not acceptable. Gotta give it to Lighthead, she got a big set of …….
Do you know how many white fools out there do not believe in reversed racism?? Lighthead is living proof. Gotta wonder who pissed in her Cherrios??
I would hate to run into her in a dark alley some night. She looks like one tough hombre.
Wanna be fair?? Lets be fair and say that this old bitch is a racist idiot. Now she should not to object my opinion being she expresses openly her feelings about honkies!!
Lighthead is one of the sisters that wants it all not just equality. I have personally seen what happens when her kind are given complete charge of their affairs. It does not take too long for them to raise the surrender flag and need to be bailed out.
What East Cleveland bankruptcy could mean for a Cleveland …https://www.cleveland.com › metro › 2016/05 › what_…
May 12, 2016 — No city in Ohio has ever filed for bankruptcy. Recently, the tax commissioner returned Mayor Gary Norton Jr.'s request for approval by stating that …
End of my story!!!