I work at a Texas coffee shop. This is what it's been like trying to enforce our mask policy
https://www.cnn.com/2021/03/29/opinions/texas-coffee-shop-maskless-customers-andrews/index.html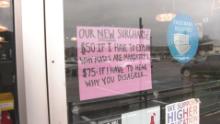 A coffee shop in Texas is taking a new approach to try and have their customers wear masks in doors. They fine the mask-less offenders.
I am a proponent of NOT wearing masks outside if distancing is practice, but on the inside it is a must.
If everyone enforced the same good habits, it would decrease the infection rate tremendously. It has been proven.
I don't care about the heath of the fools that refuse to wear the mask in doors, I care about the healthy people they will infect.
Practicing good health habits is beneficial for everyone's protection. Only self-centered, irresponsible people do not cooperate. This is one of the reasons we have so much inner-related tensions in the Good Old USA, we can not get people to agree on common-sense issues.
What is the answer?? Probably is none except: