CNN; the far left news network where A C's brother Chris is a big wig, has been forced to turn on the bully governor. The frying pan is getting to hot for them so the had to flip the omelet.
https://www.cnn.com/2021/03/14/opinions/cuomo-sexual-harassment-alaimo/index.html
Cuomo also faces a serious scandal involving allegations that his administration misreported nursing home deaths.
It's a remarkably swift fall from grace for a politician who was just recently seen as one of the nation's strongest managers of the Covid-19 pandemic. But Cuomo didn't belong in office even before these allegations came to light, given that he is widely known to be a bully.
Before the governor was last reelected, New York City public advocate Jumaane Williams, who lost his bid for lieutenant governor in 2018, described Cuomo's aggressive behavior as "kind of an open secret," while Cynthia Nixon, who ran against Cuomo in the Democratic primary, said, "We've all seen it: Andrew the bully. He bullies other elected officials. He bullies anyone who criticizes him."
It is astounding, people like A C, as bad as their reputations are, everyone knows what kind of degenerate they are, they still continue get elected, some many times over. What do some people need to wake up; get hit on the head with a frying pan??
Just look at J J (Jokin Joe Biden); as much bad press as the man had before the election he got elected regardless. If he continues down the same path with irresponsible decision making, I am certain history will show what a horrendous job he did as president. BUTT if he ran again, he probably would still get millions to support him.
Just one of many other examples:
Is it a co-incident these people are all democrats??

New York City ends 2020 with 97 percent jump in shootingswww.tampabay.com › News › Crime
Jan 1, 2021 — New York City recorded more shootings from mid-May through … New York City endured a 2020 crime surge straight out of hell: a 97 … The hasn't been such alarming violence since 2006, when 1,565 … "Yes, Mayor de Blasio has driven down arrests, that's because he is opposed to mass incarceration.
This #bum has served in politics since 2002. He changed his name from Warren Whilham so he would appeal more to the #Italian and #Spanish populations. As #despicable as his track-record is, in every election the bum keeps getting more check marks than his opposition.
De Blasio started his career as an elected official on the New York City Council, representing the 39th district in Brooklyn from 2002 to 2009. After serving one term as public advocate, he was elected mayor of New York City in 2013 and reelected in 2017.
The list of examples is endless.
Look at Wild Bill Clinton. As much as a pervert his history showed, he still got elected and to this very day is still admired by millions of fools. W B's history of rolling in the hay loft with different women goes back decades. BUTT, he still got elected.
Juanita Broaddrick
In a 1999 episode of Dateline NBC, former Bill Clinton volunteer Juanita Broaddrick alleged that, in the late 1970s, Clinton raped her in her hotel room. According to Broaddrick, she agreed to meet with Clinton for coffee in the lobby of her hotel, but Clinton asked if they could go to her room to avoid a crowd of reporters; she agreed. Once Clinton had isolated her in her hotel room, Broaddrick states that he raped her. Broaddrick stated Clinton injured her lip by biting it during the assault.[13][14] In 1999, Clinton denied Broaddrick's allegations through his lawyer.
Supporters of Clinton have questioned her account by noting that, when Broaddrick testified about her alleged encounter with Clinton under oath, she denied having been raped by him. In her NBC interview alleging rape, Broaddrick stated that she had only denied being raped under oath to protect her privacy. Supporters of Clinton have also noted that she continued to support him, and appear at public events on his behalf, weeks after the alleged rape, and that Broaddrick stated that she couldn't remember the day or month the alleged incident occurred.[15] Broaddrick has stated that in 1978 she revealed the alleged assault to five intimates, and that they advised her not to cause trouble for herself by going public.
Leslie Millwee
In October 2016, Leslie Millwee accused Bill Clinton of sexually assaulting her three times in 1980. Millwee was then an employee at a now-defunct Arkansas based television station, and Clinton was then governor of Arkansas. Millwee told Breitbart News that on each of the three occasions, Clinton came up behind her and fondled her breasts, and on the second occasion, he rubbed his crotch against her and came to orgasm.[16]
Paula Jones
According to Paula Jones' account, on May 8, 1991, she was escorted to Clinton's hotel room in Little Rock, Arkansas,[17] where he propositioned and exposed himself to her. She claimed she kept quiet about the incident until 1994, when a David Brock story in the American Spectator magazine printed an account. In 1994, Jones and her attorneys, Joseph Cammarata and Gilbert Davis, filed a federal lawsuit against Clinton alleging sexual harassment.[18] In the discovery stage of the suit, Jones' lawyers had the opportunity to question Clinton under oath about his sexual history; in the course of this testimony, Clinton denied having had a sexual affair with Monica Lewinsky, a denial that, after his affair with Lewinsky was subsequently exposed, eventually led to his impeachment for perjury and obstruction of justice.[19]
Several witnesses disputed Jones' account, including her sister and brother-in-law. These witnesses contended that she had described her encounter with Clinton as "happy" and "gentle". In addition, Jones had claimed to friends that Clinton had a particular deformity on his penis, a claim that was revealed to be false by investigators.[2]
In April 1998, the case was dismissed by judge Susan Webber Wright as lacking legal merit.[20] But Jones appealed Webber Wright's ruling, and her suit gained traction following Clinton's admission to having an affair with Monica Lewinsky in August 1998.[21] This admission indicated that Clinton may have lied under oath when he testified in the Jones case that he had never had a sexual relationship with Lewinsky.
On appeal, in the midst of his trial for impeachment based on his testimony in the Jones case, Clinton was faced with the prospect of having to go under oath again and testify more about his sexual history. Instead, Clinton agreed to an out-of-court settlement, paying Jones and her lawyers $850,000 to drop the suit; the vast majority of this money was used to pay Jones' legal fees.[22] Clinton's lawyer said that the president made the settlement only so he could end the lawsuit for good and move on with his life.[23]
Kathleen Willey
In 1998, Kathleen Willey alleged Clinton groped her without consent in the White House Oval Office in 1993.[24] Kenneth Starr granted her immunity for her testimony in his separate inquiry.[25][26]
Linda Tripp, the Clinton Administration staffer who secretly taped her phone conversations with Monica Lewinsky in order to expose the latter's affair with the president, testified under oath that Willey's sexual contact with President Clinton in 1993 was consensual, that Willey had been flirting with the president, and that Willey was happy and excited following her 1993 encounter with Clinton.[3] Six other friends of Willey confirmed Tripp's account in sworn testimony, stating that Willey had sought a sexual relationship with the president.[4] Ken Starr, who had deposed Willey in the course of investigating Clinton's sexual history, determined that she had lied under oath repeatedly to his investigators. Starr and his team therefore concluded that there was insufficient evidence to pursue her allegations further.[citation needed] In 2007, Willey published a book about her experiences with the Clintons.[27]
Gloria Steinem and Joy Behar opinions
In a 1998 op-ed for the New York Times, feminist icon Gloria Steinem said of Willey and Jones, "Mr. Clinton seems to have made a clumsy sexual pass, then accepted rejection."[28] This article received some criticism from the media when it was published.[29] In 2017, it was described in The Atlantic as "notorious": "It slut-shamed, victim-blamed, and age-shamed; it urged compassion for and gratitude to the man the women accused."[30]
These are the ladies we know about. It has been substantiated that W B while the governor of Arkansas had state trooper truck in broads for him to the governors mansion. Talk about giant balls. The thing with Epinburgers sex island has not been put to rest. W B claims he was never there, BUTT the flight log indicates he was the possibly a dozen times. ANDDDDD, he still got elected.
The people that are so enamored with this male nymph have some screws loos or are cut from the same cloth he is.
In 2016, on the U.S. television program The View, co-host Joy Behar referred to Bill Clinton's accusers as "tramps". Behar apologized for the sexual slur shortly afterwards.
This broad named Joy is anything butt. Any women that would condone W B's escapade is #stone-cold-hearted-bitch. She is a #disgrace to #womanhood, as well as the #fools that support her!!
That just shows us what kind of #idiots live in the USA that would accept, support and vote for a man that has been proven to be a #molester and a #philanderer. All the old school values the USA once had are all flushed down the #crapper.
All a person needs to get into politics, are some #fine-threads, a #sun-tanned-kisser, a new set of #store-bought-capped-ivories, and a good line of #bullshit. #Honesty and #integrity are not part of the equation anymore.
Biden's history of alleged inappropriate touching relevant again as he declines to condemn Cuomo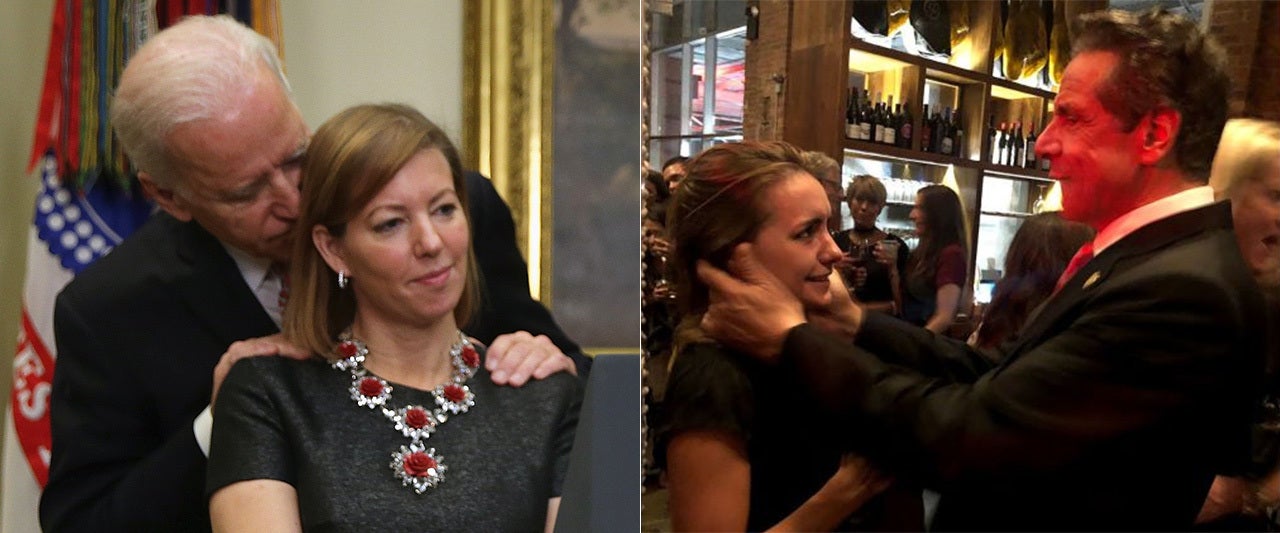 I hate to say it, because I do respect the office of the presidency; Joe Biden is one stupid man that does not belong in the office as the president of the USA, or any other political office.
On the way out, he should take his cousin A C with him.
AMEN