(CNN)
Members of the National Guard have been allowed back into the Capitol Complex after a slate of #lawmakers voiced their #outrage at #guardsmen being #banished to a #parking-garage as a rest area, a guardsman told CNN.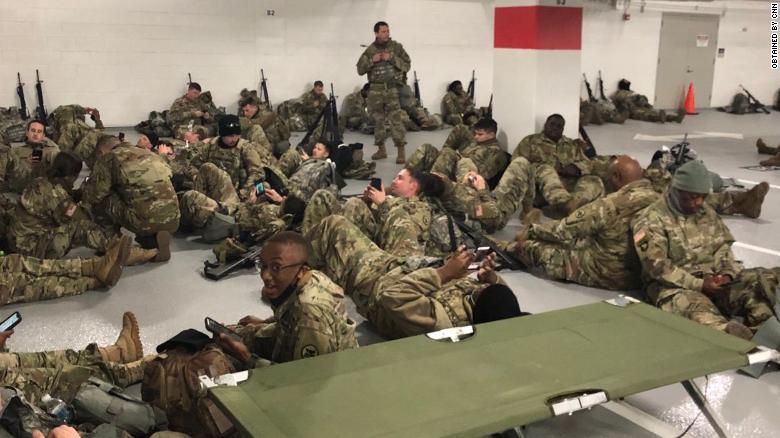 Now the guard knows how the #black-people felt for decades that were made to use the #servants entrance or had to sit in the back of the bus. #Second-hand-citizens.
These #patriotic-Americans should have been put up in the Four Seasons. In The Rotten Apple that #fool Warren Wilham (DeBlasio) has street people staying in 500.00$ a night rooms to get them off the streets.

Homeless Men Moved Into a Tourist Hotel. What Followed …www.nytimes.com › homeless-lucerne-hotel-relocationNov 13, 2020 — The hotel-turned-shelter became a flash point on the Upper West Side, but helped the men find a sense of belonging. Now they might be …

What Happened When Homeless Men Moved Into the Upper …www.nytimes.com › nyregion › uws-homeless-hotels-nycNov 25, 2020 — When New York City moved shelter residents into tourist hotels on the Upper West Side of Manhattan, the neighborhood's values were tested.
There seems to be a lack of appreciation in this country for the dedicated people that protects us. If any of the guard were sons or daughters of some #half/assed politician, #guaranteed they would not be sleeping on some cold concrete garage floor. GMAFB
Years ago I used to give politicians in this country a little credit for being TOP SHELF people. Now they are not even allowed in the pantry.
I am glad to see that some of them were appalled by where the guard had to stay.
Who the hell is in charge of these decision making.