Kathy Griffin, Madonna and Robert De Niro mentioned by name during Trump's second impeachment hearings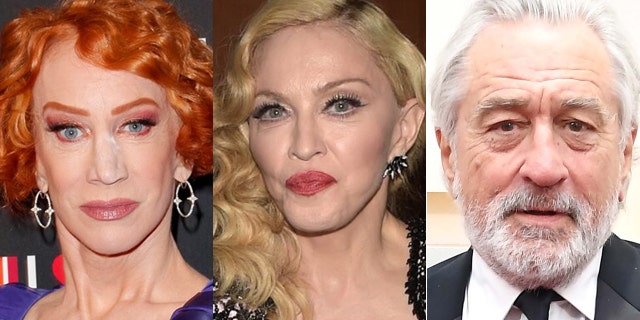 https://www.foxnews.com/entertainment/kathy-griffin-madonna-robert-de-niro-name-trump-impeachment
It is really a shame that the three (or at least The Taxi Driver and Madonna) have so much talent, BUTT are the #scum-of-the-earth!! The #fake-redhead-idiot has about a much talent and personality as Kim Fung Jung #The-Kid-Dick-tator.
I think PDT was very generous in not prosecuting them, throwing their ass in the slams as well as others that threatened him and his family. It would not surprise me in the least that they took part in the Capitol riots in some shape or form.
18 U.S. Code § 871 – Threats against President and …www.law.cornell.edu › … › PART I › CHAPTER 41
18 U.S. Code § 871 – Threats against President and successors to the Presidency. U.S. Code; Notes. prev | next. (a). Whoever knowingly and willfully deposits …You've visited this page 2 times. Last visit: 8/16/17

Singer Madonna defends 'blowing up the White House' remarkwww.reuters.com › us-usa-trump-women-madonna › si…
Jan 22, 2017 — Singer Madonna defends 'blowing up the White House' remark … with comments' about rivals' attractiveness and promises to outlaw or …
These three idiots clearly broke the law when they crossed the line as they did. Nothing these fools would do that would surprise me.
It is mindboggling to me that anyone can hate another personas much as the three Scum-a-teers hate Trump. All it amounts to is a large number of fools in a particular social group all jumped on the bandwagon of Trump haters; because it was THE THING TO DO. All of their other idiot friends were making fools of themselves and these fools did not want to be left out.
WTF did this guy do so drastically wrong that they could hate in that much??
The hypocrisy of it all; take a good look at all of their #ass-hole-buddies that are #child-molesters – #rapist – #political-parasites – #murderers and they support them to the hilt. Let us not forget womanizers'; one was just elected to the presidency.
The list includes people as high up the totem pole as you can go – entertainers – politicians – business people that have crossed the line, BUTT these fools still idolize them. There is no rational behind their thinking.
My advice to them all; take a good look in the mirror before you take pop-shots at someone else.
Yeah, I'm talking to you and those other two nit-wits. WTF did Trump ever do personally to you to hate the man that much??