https://video.foxnews.com/v/6211370697001/
When the going gets tough, the tough get going. These two heroic men rescued two kids from a burning building.
Philip Blanks caught a baby dropped by the mother from the 3rd floor balcony of a burning apartment building, while D'Artagnan Alexander ran inside the building and rescued an 8 year old boy. Unfortunately he mother did not make it out alive.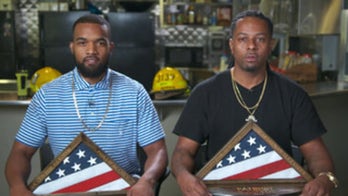 Phillip Blanks and D'Artagnan Alexander
Right after the child was safely in Blanks's arms, he and neighbors wrapped the boy in a blanket and attempted to pacify him until the ambulance arrived a few minutes later.
Blanks said his time in the Marines, coupled with his athletic training as a wide receiver in high school and college, prepared him for this moment. The Marines taught him to "always be on high alert, not be complacent and to have discipline," he said.
Folks, I will tell you; there definitely is something behind serving in any military branch. The Jar Heads just do it better.
A BIG SEMPER FI to both men. They knew the true meaning of going above and beyond the call of duty.
Blanks and Alexander will be heroes to those two kids for the rest of their lives.
By the way, both kids they rescued are white. That did not matter to the Dynamic Duo, they saw someone in need and reacted. That is the way it should be!!
Let us all work hard in eliminating racism; it serves no purpose and is a gigantic waste of energy. Our kids and grandchildren will love us for it.