Pence, Harris take different approaches to deliver their pitch, criticize the other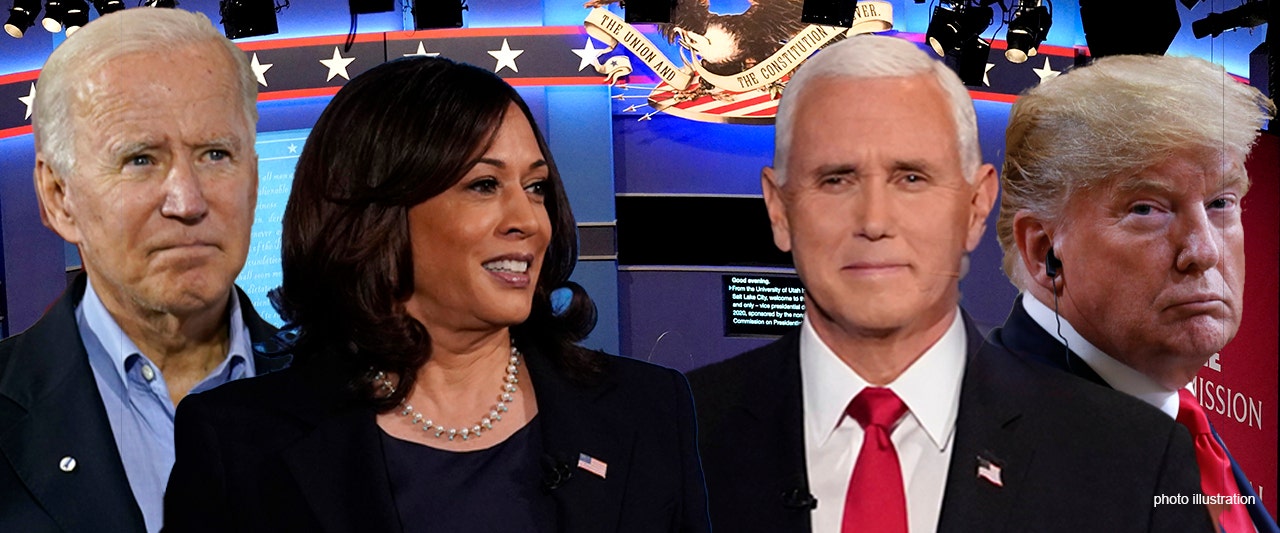 It is bad enough I have to be accountable for my own actions in life; but when I am compelled and put on the hotseat for my BAD ASS brother, it makes life a little more difficult. That is partially how the debate (if that is what you want to call it) went last night.
In my opinion; I said this from the beginning, V P Pence is not forceful enough. He is not the type that goes for the jugular right away, he has to say hello first and thank you for nothing. Where as, Car-mella seems to be more of a street fighter than Pence.
Car-mella is definitely going to impress a lot of people with tat 100,000.00$ smile of hers. I would not be surprised if one day J J and her meet in the dentist's office and hit it off in a big way.
Just like TMC did im 2008, Car-mella is going to charm the hell out of a lot of people that love her superficial demeanour.
Car-mlla is like the general that wears a lot of medals on his chest, but has only seen limited ation.
Putting aside all of the cosmetics; it may have been a very close debate, with both sides trying to convince the nation what kind of bums the other side is.
Pence looked a little pale. I don't know if it was because Carm is so much darker, but Pence looked kind of emaciated. Trying to answer for some of his boss's unusual behavior has become a real chore for the guy.
Speaking of dark; is Car-mella of Indian descent or is she black. There seems to be a difference of opinion. Possibly she is both. I guess a lot depends on what side of the fence a person wakes up on any given day, as to which choice of identity can be more beneficial to their cause.
Fact check: Kamala Harris did not switch from identifying as …www.reuters.com › article › fact-check-kamala-harris-d…
Aug 21, 2020 — Senator Harris has long identified as both Black and Indian. She recognizes both parents' heritage as part of her identity and her senate bio reads …
Harris details her mixed-race identity and upbringing in her 2019 memoir "The Truths We Hold" ( here ), describing how she and her younger sister Maya "were raised with a strong awareness of and appreciation for Indian culture," while her mother also "understood very well that she was raising two black daughters" and "was determined to make sure (they) would grow into confident, proud black women."
As all good politicians (using the word good loosely) they both dodged many questions and lied through their teeth or did not answer. Typical Politician 101!!
Liberalism in itself can be a very beneficial way of governing if it was not taken to extremes such as Ossio's platform.
Some of these suggestions are wishful thinking. It would be nice if they were attainable for the bums in this country that would rather be on social programs instead of working. Most of what she is proposing is cost prohibitive and can not ever be implemented. Occasio and Harris are molded out of the same clay.
I saw an interview with Ossacio where the reporter asked Occasio how she proposed to pay for all of her proposals. She replied; we will find a way, but never answered the question.
This is where the political Ponzi Scheme comes into play. The conmen on the top are the only ones that benefit.
My main dislike for Car-mella is; she labeled the most liberal person in the senate; beating out Bernie Boy out for that seat of distinction. Being more liberal than The Burn is no compliment, especially when one of his most admired criminals was Fidel Castro.
We have witnessed what kind of harm/damage a super-liberal can inflict on a country. It is not pretty. They are like the super-liberal parents that let their kids run hog wild all their lives and eventually become totally out of control. By that time it is past the point of return. The kid is shot for life.
How Socialist Is Bernie Sanders? | The New Yorkerwww.newyorker.com › news › q-and-a › how-socialist-…
Mar 2, 2020 — Bernie Sanders, who for decades has described himself as a democratic socialist, is now the front-runner for the Democratic Presidential …
If anyone thinks that is a compliment, they have a few boards missing from their attic. Bernie used to think that the sun rose and set on Fidel Castro's ass.
Bernie Sanders defends praise of Fidel Castro before debate …www.youtube.com › watchFeb 25, 2020 — Before Tuesday night's debate, candidates are sharply criticizing Bernie Sanders for his comments about Cuba on "60 Minutes.
As Americans, we have to evaluate both parties and the people who represent them; what have they done for the country and what they intend to do. Aside from all of Trump's idiosyncrasies, no one with any fairness in their bones can deny The Donald is a go getter, ALWAYS putting America first. Many time he has an unorthodox way of doing it, but for the most part he gets the job done.
If he would have only used some diplomacy and not shot himself in the foot with some of his comments, he would have been unbeatable. Now I think it will be a close race; hopefully with PDT doing another term.
Harris made reference last night to many of the world leaders Trump has made enemies of. What the hell is the difference. It has never been, and never will be where the person in the TOP SEAT can be popular and still do what they were appointed or elected to do.
Jesse James was hired to bring law and order to the Old West by some very desperate towns people. After he accomplished his mission, they wanted to shit can him because he became so powerful and a threat to them. In some areas this is the way I see Trump's position with some of the politicians. They are afraid of him and what he may do or say. Can't have it both ways friends.
Unfortunately; we can not believe any of them 100% or even 90. When we close that curtin behind us in 20 some days, we have to look at, which one of the candidates is the right choice based on their historical achievements while in office.
Trump Administration Accomplishments
In three plus years.
More Americans are now employed than ever recorded before in our history.
We have created more than 400,000 manufacturing jobs since my election.
Manufacturing jobs growing at the fastest rate in more than THREE DECADES.
Economic growth last quarter hit 4.2 percent.
New unemployment claims recently hit a 49-year low.
Median household income has hit highest level ever recorded.
African-American unemployment has recently achieved the lowest rate ever recorded.
Hispanic-American unemployment is at the lowest rate ever recorded.
Asian-American unemployment recently achieved the lowest rate ever recorded.
Women's unemployment recently reached the lowest rate in 65 years.
Youth unemployment has recently hit the lowest rate in nearly half a century.
Lowest unemployment rate ever recorded for Americans without a high school diploma.
Under my Administration, veterans' unemployment recently reached its lowest rate in nearly 20 years.
Almost 3.9 million Americans have been lifted off food stamps since the election.
The Pledge to America's Workers has resulted in employers committing to train more than 4 million Americans. We are committed to VOCATIONAL education.
95 percent of U.S. manufacturers are optimistic about the future—the highest ever.
Retail sales surged last month, up another 6 percent over last year.
Signed the biggest package of tax cuts and reforms in history. After tax cuts, over $300 billion poured back in to the U.S. in the first quarter alone.
As a result of our tax bill, small businesses will have the lowest top marginal tax rate in more than 80 years.
Helped win U.S. bid for the 2028 Summer Olympics in Los Angeles.
Helped win U.S.-Mexico-Canada's united bid for 2026 World Cup.
Opened ANWR and approved Keystone XL and Dakota Access Pipelines.
Record number of regulations eliminated.
Enacted regulatory relief for community banks and credit unions.
Obamacare individual mandate penalty GONE.
My Administration is providing more affordable healthcare options for Americans through association health plans and short-term duration plans.
Last month, the FDA approved more affordable generic drugs than ever before in history. And thanks to our efforts, many drug companies are freezing or reversing planned price increases.
We reformed the Medicare program to stop hospitals from overcharging low-income seniors on their drugs—saving seniors hundreds of millions of dollars this year alone.
Signed Right-To-Try legislation.
Secured $6 billion in NEW funding to fight the opioid epidemic.
We have reduced high-dose opioid prescriptions by 16 percent during my first year in office.
Signed VA Choice Act and VA Accountability Act, expanded VA telehealth services, walk-in-clinics, and same-day urgent primary and mental health care.
Increased our coal exports by 60 percent; U.S. oil production recently reached all-time high.
United States is a net natural gas exporter for the first time since 1957.
Withdrew the United States from the job-killing Paris Climate Accord.
Cancelled the illegal, anti-coal, so-called Clean Power Plan.
Secured record $700 billion in military funding; $716 billion next year.
NATO allies are spending $69 billion more on defense since 2016.
Process has begun to make the Space Force the 6th branch of the Armed Forces.
Confirmed more circuit court judges than any other new administration.
Confirmed Supreme Court Justice Neil Gorsuch and nominated Judge Brett Kavanaugh.
Withdrew from the horrible, one-sided Iran Deal.
Moved U.S. Embassy to Jerusalem.
Protecting Americans from terrorists with the Travel Ban, upheld by Supreme Court.
Issued Executive Order to keep open Guantanamo Bay.
Concluded a historic U.S.-Mexico Trade Deal to replace NAFTA. And negotiations with Canada are underway as we speak.
Reached a breakthrough agreement with the E.U. to increase U.S. exports.
Imposed tariffs on foreign steel and aluminum to protect our national security.
Imposed tariffs on China in response to China's forced technology transfer, intellectual property theft, and their chronically abusive trade practices.
Net exports are on track to increase by $59 billion this year.
Improved vetting and screening for refugees, and switched focus to overseas resettlement.
We have begun BUILDING THE WALL. Republicans want STRONG BORDERS and NO CRIME. Democrats want OPEN BORDERS which equals MASSIVE CRIME.
In 47 years plus:
Biden:
https://www.americanthinker.com/blog/2020/07/joe_bidens_accomplishments.html
Critics ask: What has Joe Biden ever accomplished other than enriching his own family via various governmental grifts and leaving Barack Obama with chapped butt cheeks from Joe's constant smooching?
Plenty, folks, no joke.
For one, Joe Biden single-handedly killed the #MeToo movement, an anti-male meme that said all women claiming sex abuse must be believed, regardless of any evidence or lack thereof.  This movement culminated in the absurd charges against Brett Kavanaugh during his Supreme Court confirmation hearings.
Pence and Trump – Biden and Harris thoughts: I have an older brother I really admire, but I do not like some of the things he does. Pence an Carm have a hard enough time explaining for themselve, let alone being accountable for their running mates.
I will say, both JJ and PDT have put their running mates in a very precarious positions by some of the unexplainable actions
Last nights debate was DUD!!