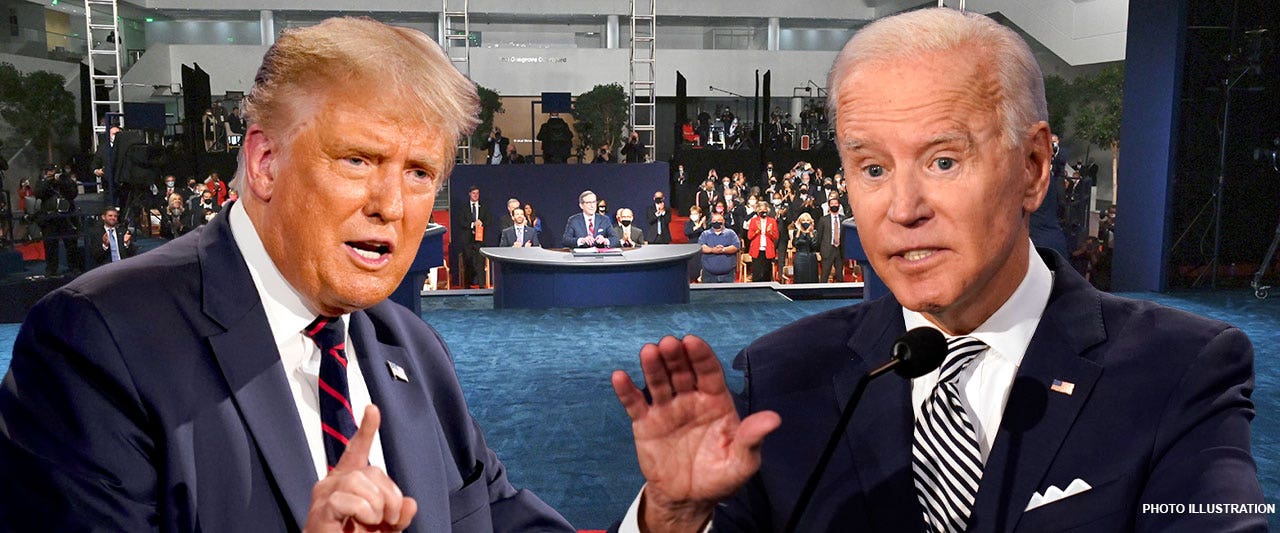 Trump, Biden, in fiery debate, trade barbs on taxes, pandemic and plain old schoolyard name-calling
DENY – DENY – DENY . At times I was in stitches, fell out of my recliner 4 times, laughing at these to ancient Gladiators going at one another. I kept wondering just how long it would be before PDT jumped on the Hunter Biden bandwagon. J J immediately got hot under the collar and denied – denied and denied even more that his kid was involved with any improprieties overseas.
The debate resembled Bud Abbott and Lou Costello skit; who's on first!!
Just one example how J J has gone to the wall all of his kids life, getting him out of one jackpot after another. That is why the kid is the bum he is. Read the facts, you will be shocked what a scumbag the kid really is. And J J fed all his bad habits, all of his life.
https://pagesix.com/2019/07/01/hunter-biden…
Jul 01, 2019 · Hunter Biden and Hallie Biden 
Hunter Biden began dating his brother's widow while recovering from a week spent buying crack from a homeless encampment in Los Angeles, according to a …..
More: https://en.wikipedia.org/wiki/Hunter_Biden
And yeah,J J and his wife gave the loving couple their blessings. One thing I have never be able to figure out; did Beau's kids call Hunter uncle or daddy?? Strange arrangement, not to mentions what a low life Beau's wife is.
There was actually too much commotion going on during the debate to comment on it all. The entire 1:45 minutes turned into a slugfest with each one of the combatants trying to shame or discredit the other.
I have to give J J a little credit for being a ballsy liar, for the most part, through a few stumbles, he put on a gallant fight. On the whole, as nasty as it was, I have to give The Donald the victory. The only thing that was missing from the contest was a wrestling ring and Hulk Hogan as the ref.
There were issues that are clearly verified and documented in the press and legal jurisdictions one of the accused used on the other, BUT they lied through their teeth denying any such incident ever occured. Lying 101 at it's best.
PDT demonstrated exactly what got him elected the first time, balls and the willingness to fight for his country. Right – wrong or indifferent, whatever his motivations are, ego or dedication, THE MAN fights for America and does all he can to make sure we keep getting abused. In the meantime, if he plays golf and somewhere down the line enriches himself by being the president, so what. Tell me which one hasn't.
I don't blame The Donald for making a few bucks for being the president after he gets out of office, he would be a fool not to. He had a very comfortable life style before he put his hand on the bible, so why not What issue I do disagree with, getting his family involved in the government's business.
Folks; in a nutshell, the guy that is going to come out on the top is the one that can discredit the other one the most – the one that can raise the most $oldi and the one that can bullshit their way into The Big Chair. My money is still on Trump.
BIGGEST point/issue the voters should look at. J J has been in politics for 47 years – 8 of which were as V P. Much of what he is fight against and is going to change now is what initiated/approved of before.
Anyone that does not believe the dirt on J J and his family across the pond; I still have some very good prime swamp land for sale.
One very important thing to remember. It is so easy to sit back and pick apart after the fact what someone has done (MONDAY MORN QUARTERBACK) Butt it is the guy with the balls and desire to make great changes for the betterment of all people, a risk taker/ a visionary as PDT is, that is a true leader.
Now don't bullshit yourself. A person like that makes many mistakes along the way, but as long as the score is 80% – 20%, I can live with that.
I know a black guy years ago that didn't have much use for me and the feelings were mutual. There was one thing the guy said that had some merit; if you ain't never done nothing, you never made a mistake. His nickname was Brother-in-law. He thought he was Italian.
If I feel like a good laugh, I might watch round 2 between PDT and J J. One debate that may be more entertaining will be between Car-mella and Pence. Carm is a street lady and knows how to deliver the low blows. Pence on the other hand may be a little squirrely and has never showed his nuts.
GOD BLESS AMERICA – WE CERTAINLY NEED IT – ALL LIVES MATTER
Don't forget, when the ship sinks, we all will sink together.