Nevada Governor Steve Sisolak says Trump took 'reckless and selfish actions' by holding indoor rally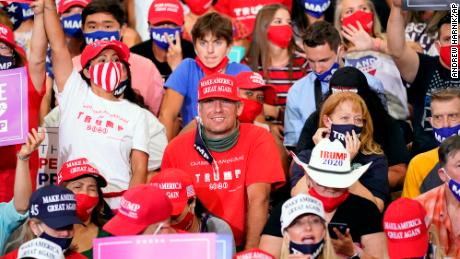 I said this as far back as I can remember. PDT is his own worst enemy!! If anyone beats him in the election, it will be himself.
Some of the things he does are simple brillant; and some are absolutely stupid. What the hell is he trying to prove by holding an indoor rally when all they have in the State of Nevada are blue skies and no adverse weather?? Does it make sense?? Not to me.
These are some of the thing that don't add up. He s fighting tooth and nail with J J for 1st place. If someone did not know better, they would think he is doing foolish things deliberately to beat himself. Is he sick and tired of all he bombardment/abuse and wants to exit on his terms?? If that is the case, who can really blame him. Does he want to take a walk and make it look like the media's fault?? With Donald Trump, no never knows. All I do know for sure, he is not trying very hard to score points in the home stretch. If this is what he considers the right strategy, he sure is not using good sense.
Why open oneself to criticism if it is not necessary? PDT has a very bad habit of doing that. THE MAN has so much going for him, but takes unnecessary chances and leaves himself wide open. What other reason would he have for some unreasonable things he does except possibly looking for an out?? Although I find that very improbable. it is food for thought.
With all of the incomprehensible moves he has made, he is still the best choice. Let us hope he has the intestinal fortitude to hang in there; the country is doomed if the other side gets the nod.
Why do you think that China and Russia are in J J and Car-mella's corner? They are clowns – weak sisters – they can be bought – can be manipulated and controlled. All of the things, The Donald can not.

Kamala Harris tweeted support for a bail fund, but the money …www.washingtonpost.com › politics › 2020/09/03 › ka…
Claim: "Kamala Harris helped violent rioters in Minnesota get out of jail to do more damage."Claimed by: Tom Cotton
Fact check by Washington Post: Needs context Feedback
Kamala Harris-supported Minneapolis Freedom … – Law Officerwww.lawofficer.com › corrections
Aug 12, 2020 – The $35 million in donations was, of course, meant to provide bail money to protesters who were arrested by Minneapolis Police, but the group …
Kamala Tweet: Help Bail-out 'Protestors'. – 247Sports.com247sports.com › college › ole-miss › board › Contents
Aug 31, 2020 – In the wake of deadly fires and looting, Harris asked her five million plus Twitter followers to donate money to bail out the "protesters" arrested in …
Just what this country needs.