US Army vet says he was used as a 'prop' in anti-Trump 'propaganda'
https://www.foxnews.com/media/us-army-vet-says-he-was-used-as-a-prop-in-anti-trump-propaganda-to-turn-veterans-against-the-president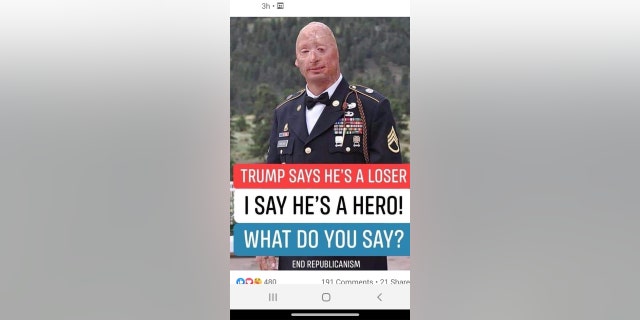 One U.S. wounded veteran is speaking out against his image being used across all social media platforms to further perpetuate a story he believes is false and made up by Democrats for political gain.
"I'm just so irritated that they put my image up there because now it looks like the president called me a loser."  Bobby Henline, a four-tour Iraq War veteran told Fox News referring to comments allegedly made by the president regarding wounded veterans. "And they're using that to sell something that they believe in for their agenda. It's not fair to put us [veterans] as props in the middle of all that,"
I hope that Bobby Henline has a good mouth piece and sues the hell out of the socio/democratic party for all they are worth. It is disgraceful how low they will stoop to further their neferious cause using someone's image without permission.
To pour gasoline on the fire; they fabricated a poor bull-shit story to flavor up their deceptions. We all know by now just how devious the socio/democrats are; all we have to do is read the news. They make Chubby Checker look like an amateur.