The time has long past where these animals quit trying to put the blame for their outrageous behavior on someone or something else. Are they going to bring all of this stolen merchandise to Freddy's family??
I don't care if anyone is black – white – yellow or green, if they behave in this barbaric manner, they are animals.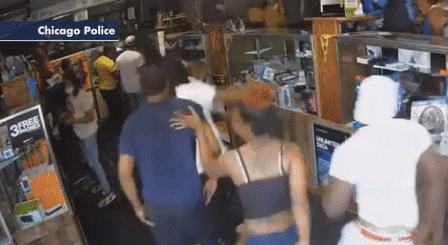 There comes a time in our lives (or at least the normal people) where they have to take responsibility of our actions. This is crazy what the fools are doing. They probably have their baby buggy out side with their 15 kids in it showing them how their mommy and daddy take care of BID-NESS.
If the citizens of this country truly want peace and harmony; this kind insane activity has to stop. There is no excuse for it.
Illinois Compiled Statutes – Illinois General Assemblywww.ilga.gov › legislation › ilcs › fulltext
Looting is a Class 4 felony. In addition to any other penalty imposed, the court shall impose a sentence of at least 100 hours of community service as determined …
It is no wonder why these fools have no fear of looting. The penalty is only 100 hr. of community service. I know sure as hell none of them, if caught and convicted ever do 10 minutes of the sentence. It in a f-in joke. While they are carrying that 70 inch TV down the streets, they are laughing at the authorities.
The authorities all over the country better get their heads out of their ass and start imposing stronger sentences for crimes. Tell me something you fool politicians, what is the downside of their criminal activity?? ZERO.