Top Biden communications aide has history of sexist Twitter posts
https://www.foxnews.com/politics/biden-communications-has-history-of-sexist-posts
I know J J; you didn't know anything about your man's proclivities; like WB did not know anything about Epinburgers sex island.
Joe Biden's head of strategic communications, Kamau M. Marshall, has repeatedly posted sexist messages on social media over the past decade, beginning with a Christmas Eve 2011 tweet in which he expressed his affection for "power women" – as long as she "know[s] her place" and he can "where [sic] the pants."
In one part of his statement, Marshall claims he has an affection for power-women, BUTT she better know her place and know who wears the pants in a relationship.
Kemosabe; man speak with forked tongue.
That does not sound like an equal relationship to me. Heads he wins – tails she loses.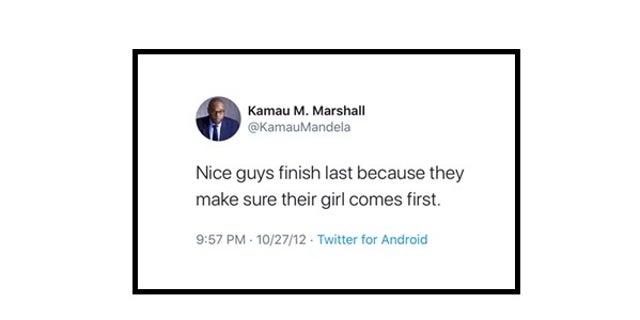 The fool had nerve enough to tweet something so off-color.
It does not surprise me that J J (Jokin Joe) has not put the burn on his side-kick; can't be a secret, they have been together many years.
With a history like his; how can J J criticize anyone that get out of line with the ladies. In Marshall's case; it would be the kettle (J J), calling the pot black and that is a no-no.
J J is not a newcomer to harassing/mauling the ladies. He has been at it for years, going completely unchallenged. Double-standards?? You betcha!! If he was a republican, he would still be picking the thorns out of his head.
Mind you folks; this is the best of their best the democrats have to sit in the Big Chair. It took 3.75 years to come up with THIS??? What the hell does that say for the party as far as qualified/stellar people, absents of morality and no respect for the ladies??
A few spinets of J J's indiscretions:
Joe Biden's behavior with girls and women draws scrutiny – Voxhttps://www.vox.com/2019/6/13/18663399/joe-biden-10-year-old-hyde-womenJun 13, 2019 · Joe Biden hasn't changed. After several women said earlier this year that Biden had touched them in ways that made them uncomfortable, the …Missing:
Here are all the times Joe Biden has … – Business Insiderhttps://http://www.businessinsider.com/joe-biden…
Tara Reade alleged in April 2019 that Biden touched her in ways that made her feel uncomfortable …
Lucy Flores alleged in March 2019 that Biden grasped her shoulders from behind and kissed the …
Ally Coll, a former Democratic staffer, told The Washington Post in April 2019 that when she met …
Sofie Karasek, a progressive organizer, was photographed holding hands and touching foreheads …See full list on businessinsider.com
What to Know on Joe Biden and the Violence Against Women …https://time.com/5675029/violence-against-women-act-history-bidenContemplatively looks out the car window during a planning meeting with staff, Vice President Joe Biden is driven back to the White House after speaking to lawmakers, woman against violence …
Seven Women Have Now Said Joe Biden Made Them Feel …https://slate.com/news-and-politics/2019/04/joe-biden-inappropriate-touching…Seven women have now accused Joe Biden of touching them in an overly familiar way that made them feel uncomfortable or embarrassed. Biden released a …
Joe Biden Jokes About Inappropriately Touching Women …https://www.huffpost.com/entry/joe-biden-jokes…Jun 04, 2019 · Former Vice President Joe Biden continues to make a punchline out of allegations that he has a history of inappropriately touching women and invading their personal space. "I want the press to know, she pulled me close," the 2020 presidential candidate said Tuesday at a town hall event in Berlin, New Hampshire, referring to a woman at the …
Then we have the ladies that welcomed his advances, like CHC.
Joey you make my toes curl
If this is not an inappropriate position to be in; WW II was not loud!!
Just the tip of the ice pick with J J's exploits. He has been on the hunt for years.
It is total hypocrisy that this guy has been beating the system for decades. He might have NOT gone as far as Wild Bill, that I am aware of, BUTT he was very close.
https://www.nbcnews.com/video/clinton-i-did-not-have-sexual-relations-with-that-woman-248273987946
As one might expect, J J does not have a problem with Kamau Marshall. How can he, with a reputation such as his.
ANDDDDDDDDDDDDD; J J is the best they have. WOWWWWWWW!!
Great to have you on-board Charles!!