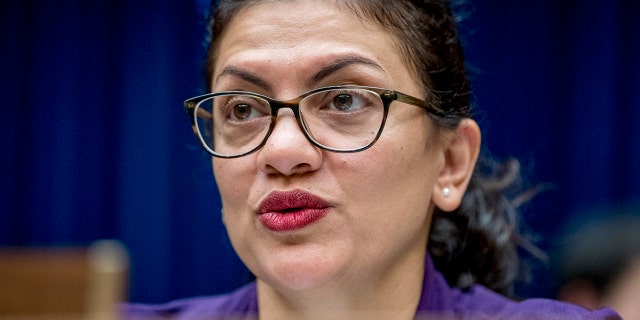 Rep. Rashida Tlaib, D-Mich., once vowed to impeach 'the motherfucker' — and now is the subject of an Ethics Committee probe. (AP Photo/Andrew Harnik)
https://www.foxnews.com/politics/house-ethics-committee-announces-probe-into-dem-reps-tlaib-hastings
It looks like this filthy mouthed Boulder Roller has a few of her own dirty little secret hidden in her closet that have come back to bite her in the ass.
It is not always the case, BUTT quiet often; some of the biggest critics have a lot of their own dirty laundry tucked away somewhere that eventually puts the screws to them.
The House Ethics Committee on Thursday released a trove of striking internal campaign communications sent in 2018 by Michigan Democratic Rep. Rashida Tlaib, in which Tlaib urgently requested money from her congressional campaign to defray personal expenses — and, a government watchdog said, possibly violated federal law in the process.
In simple terms, she was begging for money to get over the hump until she was elected and started getting a steady check.
Her ignorance was off the charts calling the President of the USA a motherfucker. It was not the smartest thing to do and was most certainly would come back to haunt her in some fashion. If she was not so vocal, I am sure the microscopes would not be focused on her.
I made this observation many times before. All of the fools, like De Niro – Sammy Boy – Acid mouth Alec – Madonna and all the others that went over the top with their insults directed at Trump, someday will get what is coming to them. It is just a matter of time. To top it off, look who these fools really are. Do they have any room to bust anyone's balls?? They forgot to consider, Trump has a very good memory.
Criticism is one thing, BUTT the extremes these fools went with their vile remarks are not acceptable.
If Tlaib and the rest of her squad are examples of who and what our future leaders will be, this country is in deep pit of shit with no ladder.
Although, I am the eternal optimist; somewhere down the road, I am afraid that The Squad and their kind will eventually take over this country through attrition.
Read this; the comparisons are astounding.
8 Reasons Why Rome Fell – HISTORY
https://www.history.com › news › 8-reasons-why-rome-fell
Jan 14, 2014 – Invasions by Barbarian tribes The most straightforward theory for Western Rome's collapse pins the fall on a string of military losses sustained against outside forces. Rome had tangled with Germanic tribes for centuries, but by the 300s "barbarian" groups like the Goths had encroached beyond the Empire's borders.
History does not lie.
I have a going away present for Tlaib for when she gets sent up. Fat chance!