Cold Beer Not Here
Would professional sports totally collapse in a world without brews?
By NICK GREENEMAY 04, 2018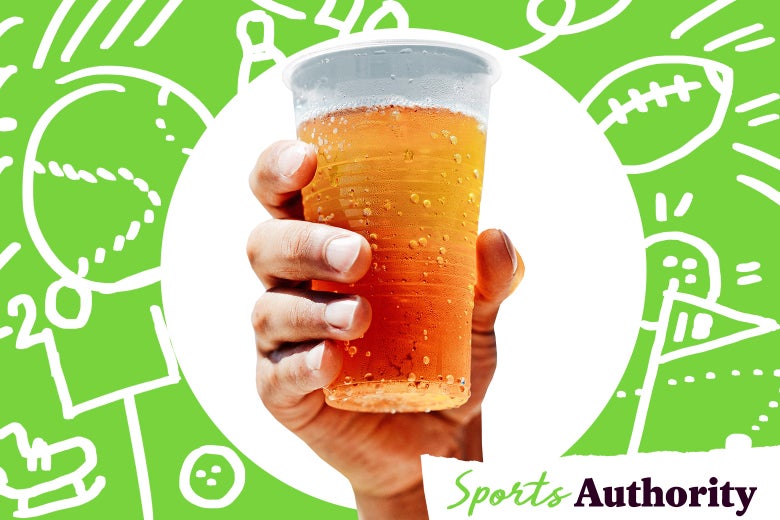 It is now and always has been all about the $oldi. The safety of the fan and their well-being is not even on the charts for the BIG BOYS. It is all about the $oldi, they could give two shits or even one shit about the protection of the fans.
Take a glance at these three web site – it is astonishing that through the years, 1,000's of people have been hurt or killed at sporting events, when the FIRE WATER got the best of them.
https://slate.com/culture/2018/05/would-professional-sports-totally-collapse-in-a-world-without-beer.html
https://en.wikipedia.org/wiki/List_of_violent_spectator_incidents_in_sports
https://www.complex.com/sports/2014/05/fatal-sports-fan-violence/heysel-disaster
Realism is not the name of the game for the Sports Authority. However, if we can get real for just a brief moment, there's too much beer money tied up in big-time sports for things to change; Mr. Met could get a DUI in the bullpen cart and we'd all just look the other way. Consider that Anheuser-Busch InBev struck a $1.4 billion deal with the NFL more than two years ago to make Bud Light the league's official beer sponsor through 2022. The company also pays MLB an estimated $40 million annually for similar rights, and MillerCoors' seven-year agreement with the NHL is worth nearly $400 million. Those are huge chunks of revenue, and that's not even factoring in concession sales.
How about those potatoes?? Will the present conditions ever change?? Not with number like this.
The average cost of a beer in a bar is about a FIN (5.00 to the youngsters). The price of a beer the owners of the stadiums and team owner charge is between 6.00 and 11.00, mostly with a big head. Tell me they are not screwing the public. BUTT the sports fans love it!!
Sad to say, BUTT many of the spectators only go to the events to get smashed. By the end of the 1st quarter, they don't even know what teams are playing.
Have any of the stadium and team owner ever been held accountable for the 1,000's of accident and some deaths that occurred as a result of a sports dummy getting into a wreck on the way home?? Hell no. Why can a bar owner be held liable if a stadium or team owner can not?? Money talks and shit walks.
Can this kind of behavior be eliminated if booze was not sold at sporting events?? Hell yes. It is all about the $oldi sports fans.
The recipients of all the profits are laughing all the way to the bank.