NORAD intercepts 4 Russian bombers and 2 fighter jets near Alaska's coast
Four Russian bombers and two fighter jets were intercepted near the coast of Alaska on Monday by North American Aerospace Defense Command (NORAD), the organization said in a statement.  The Russian planes were entering the Alaskan Air Defense Identification Zone when they were intercepted, but they remained in international airspace — never entering American or Canadian airspace, according to NORAD.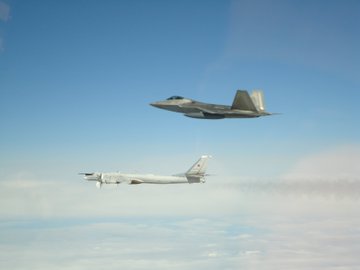 North American Aerospace Defense Command✔@NORADCommand
NORAD fighters intercepted Russian bombers+fighters entering Alaskan ADIZ May 20. 2x Tu-95s were intercepted by 2x F-22s; a second group of 2x Tu-95+2x Su-35 was intercepted later by 2 more F-22's; NORAD E-3 provided overall surveillance. The aircraft remained in int'l airspace
The Judo Guy is always sticking his toes in the water to see how cold it is. He is always pushing the limits to see what he can get away with. If left unattended to his devices, one day it will not be a test.
Gotta keep our eye on the HOG and our finger on the trigger. If we fall asleep at the wheel; there is surely going to be a gigantic collision.