Man, 35, reportedly marries computer hologram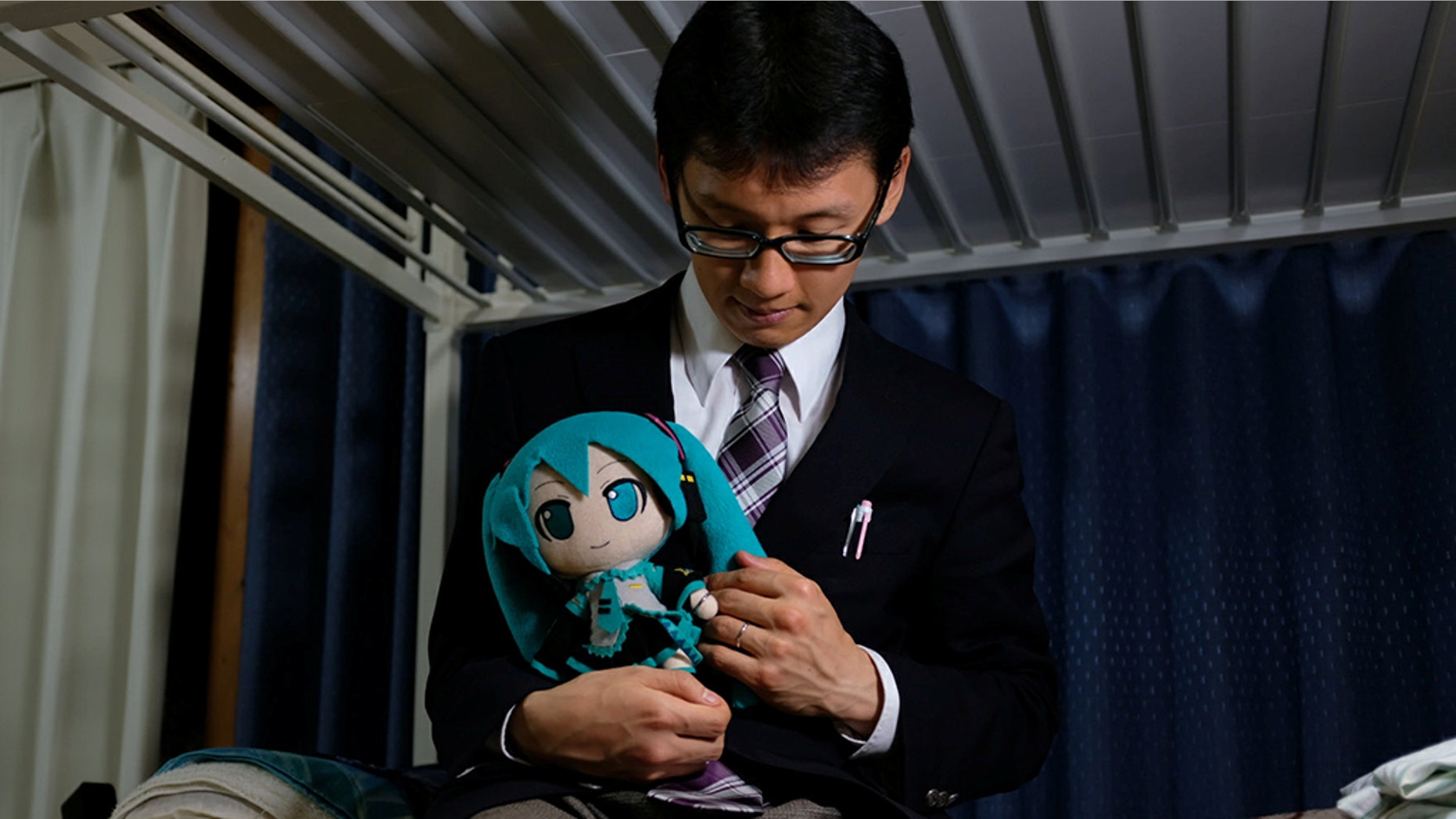 FOX NEWS
Akihiko Kondo, 35, poses for a photograph with a doll modeled after virtual reality singer Hatsune Miku, wearing their wedding rings, at his apartment after marrying her in Tokyo,
Do we think this guy needs a little help or what?
It is not bad enough this guy has a few screw loose and married a hologram, 40 people attended the ceremony and saw nothing wrong with the nutty nuptials. 
In a statement, trying to justify/qualify his insanity, Kondo acknowledging the traditional path to marriage, BUTT says he feels "the shape of happiness and love is different for each person."
"There definitely is a template for happiness, where a real man and woman get married, have a child and live all together. But I don't believe such a template can necessarily make everyone happy," Kondo told Reuters.
On the other side of the coin, the loony lad may have something.  His bride never talks back to him, never burn his Teriyaki steak, doesn't mind of Kondo goes out with the boys after work for a few glasses of Saki, doesn't care if the mother-in-law spends a couple of weeks with them.
Now to the important stuff, the sex issue is another story.
I don't know exactly how this paper mache little beauty is anatomically configured??  If Kondo was smart, he would have considered that before he created his dream girl.
The Japanese people are very well know for thinking outside the BOX.  This innovation is really up there in the imagination department. 
I hope Kondo and his bride have many happy years together.
I can't help but wonder which one of the parents the kids will look like??
I don't know if it is just me, I am a little old-fashion, I always like the Real Mccoy.  I never had to worry about getting paper cuts or blisters from the rough edges. 

To each their own.
秒おきに生まれたナットケースがあります
One other positive note for Kondo. If his bride hasn't been sleeping around, he doesn't have to worry about catching VD from her.  I always like to look for the golden/silver lining.