The most respectable living and breathing animal posing in this picture below is the PUPPY. The other three are unscrupulous scumbags.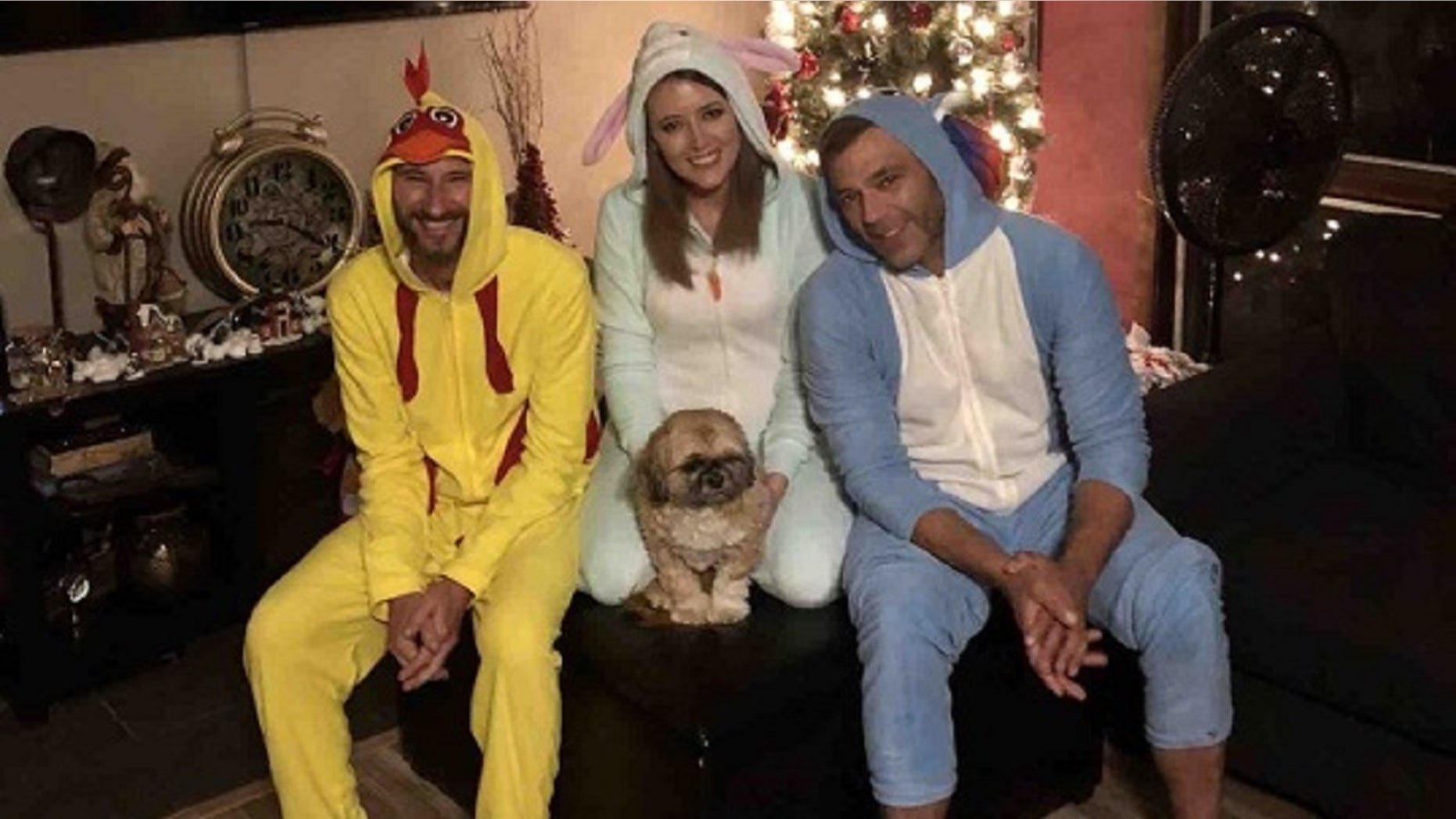 It takes a certain breed of degenerate to qualify as a scumbag, these three fit the bill to a T.
A New Jersey couple and a homeless Philadelphia man who were once the symbol of generosity in hard times allegedly conspired with each other to come up with a false story to earn GoFundMe donations and will now face charges, according to a complaint obtained by NBC 10 Philadelphia.
The original story was this: Johnny Bobbitt, who was homeless, gave his last $20 to Kate McClure, a stranded motorist in Philadelphia in November last year. To thank him, McClure, 28, and her boyfriend, Mark D'Amico, 39, created a GoFundMe account to raise funds for Bobbitt. More than 14,000 people donated more than $400,000 to the campaign.
But investigators said the three deliberately prevented donors from gaining information "that would affect their judgment about solicited contribution to that fundraising effort," according to the station. Now the three will face charges including conspiracy and theft by deception, a source familiar with the case told NBC 10A New Jersey couple and a homeless Philadelphia man who were once the symbol of generosity in hard times allegedly conspired with each other to come up with a false story to earn GoFundMe donations and will now face charges, according to a complaint obtained by NBC 10 Philadelphia.
If there is a way for some thief to get a buck without working for it, they will find it. They have larceny in their heart  and no regard for family, friends, associates or strangers.  They pray on the sympathy of the public. They are so low they will steal a milk bottle from a baby, or their grandma's false teeth if they could capitalize on it.  
The three thieves conspired to work on the heart strings of some very generous people, all with the intent of scamming them. Their con did not fall apart after the fact, the planned this rouse from the beginning. It takes a special kind of a low life to pull off a shot like this.
BUTT fortunately, there is a little thing called Karma that comes back and bites these three greedy creeps in their ass.  They all are now sitting behind bars waiting to see if they can con the guy wearing the black robe. 
As the $oldi started rolling in, the SCUM and the BUM started blowing the money as fast as they could get their hands on it. Bobbitt the BUM began buying drugs, bought an SUV and a camper that he eventually hocked when the money was running out. All in all the BUM pissed away about 75 G's of hard earned money/donations coming from good caring people. 
His accomplishes, the terrible twosome, also had a field day blowing the money on gambling,  buying luxury items and vacations with the remaining 325,000$ of the donations. 
Scumbags like these three degenerates give people second thoughts about donating/giving to charities,  putting the damper on folks that truly are in need.  There will be many people that suffer because of the greed of these three characters. 
To all of the generous donators out there that feel the need to GIVE,  be careful of where and what you donate to. 
Here we have some organizations to definitely stay away from. 
LOVETOKNOW
Sad to say, it is not only unscrupulous individuals that take advantage of the generosity of people, many very large organization are constantly raping the general public financially. 
Are you looking for a list of nonprofit organizations that is organized by interest? Here is a partial list of non-profit organizations categorized according to specific focus areas. While some of the organizations could fall into numerous categories, each organization appears on the list only once and is categorized according to primary area of interest.
Advocacy Groups for Human Rights and Civil Liberties
These charities help people fight for their rights, either through legal advocacy or by providing education, awareness, and funding for human rights initiatives.
Related Articles
Animal Rights
Animal rights organizations seek to protect animals and their habitats through advocacy, as well as, action-based and educational initiatives.
Land Conservation and the Environment
These charities seek to protect the environment through education and conservation initiatives. Charities in these categories may focus on research, direct action, or political and legal advocacy.
General Emergency Relief
These organizations step in and provide relief during difficult times such as natural disaster and war.
Refugees
These organizations provide support for people forced to flee their homeland due to war, famine, political unrest, disease, and natural disaster.
Medical Assistance
These programs provide medical relief and assistance to people who may not otherwise have access to affordable care for financial, social, or geographical reasons. These organizations may also provide emergency medical relief.
Education, Research and Cultural Preservation Groups
These groups have specific missions geared towards improving education, providing more educational opportunities, promoting cultural awareness, or preserving the culture of specific populations.
Health: Research, and Education
These health foundations focus on research about specific illnesses. Many also have an educational component to enlighten people about prevention and management strategies.
Support for Chronic Illnesses and Diseases
These organizations provide financial, emotional, or medical support for people with chronic illnesses and their loved ones.
Cancer Support and Research
These cancer charities provide research and support for people with cancer and their loved ones. Support may include education and emotional support.
Support for Physical and Cognitive Disabilities
These charities provide financial support, education, and research for people with physical and mental disabilities, as well as their families.
Poverty
These organizations help the economically disadvantaged around the world with an array of programs such as education, advocacy, health care, housing, and anti-hunger programs.
Feeding the Hungry
These charities fight hunger around the world by providing food, clean water, and funding.
Promoting Self Sufficiency
These charities help people help themselves through education, micro loans, and similar initiatives.
Impoverished Children
These charities help children around the world who live in poverty by providing food, medicine, and education.
Senior Citizens
These charities provide advocacy, education, and research for senior citizens.
Supporting Military and Veterans
These charities provide support services for those who serve our country, as well as their families. Services may include financial assistance, mental health care, and veterans services.
Supporting Fire Fighters and Police
These organizations provide advocacy and support for the civil servants who keep us safe.
Watchdog Groups
These organizations make sure public organizations like the government and the media are operating appropriately and with honesty and integrity.
Children and Youth
These charities support youth in a variety of ways, from providing constructive youth activities to advocating for children's rights.
Women
Women around the world face unique issues such as discrimination, domestic violence, and human trafficking. These charities support various women's initiatives.
How much of the donations given to some charities really never goes to its intend source? From what I read, in many cases, less than 10%. 
SMARTASSET
The Professionals
Then there are the professional long term operations. They utilize direct mail or telemarketers to solicit millions of dollars in donations from unsuspecting individuals and businesses. Are you concerned you've already been scammed or just want to make sure you won't be in the future? Here are some of the worst offenders:
1. Kids Wish Network
2. Cancer Fund of America
3. Children's Wish Foundation International
4. American Breast Cancer Foundation
5. Firefighters Charitable Foundation
6. Breast Cancer Relief Foundation
7. International Union of Police Associations, AFL-CIO
8. National Veterans Service Fund
9. American Association of State Troopers
10. Children's Cancer Fund of America
11. Children's Cancer Recovery Foundation
12. Youth Development Fund
13. Committee For Missing Children
14. Association for Firefighters and Paramedics
15. Project Cure (Bradenton, FL)
16. National Caregiving Foundation
17. Operation Lookout National Center for Missing Youth
18. United States Deputy Sheriffs' Association
19. Vietnow National Headquarters
20. Police Protective Fund
21. National Cancer Coalition
22. Woman to Woman Breast Cancer Foundation
23. American Foundation For Disabled Children
24. The Veterans Fund
25. Heart Support of America
26. Veterans Assistance Foundation
27. Children's Charity Fund
28. Wishing Well Foundation USA
29. Defeat Diabetes Foundation
30. Disabled Police Officers of America Inc.
31. National Police Defense Foundation
32. American Association of the Deaf & Blind
33. Reserve Police Officers Association
34. Optimal Medical Foundation
35. Disabled Police and Sheriffs Foundation
36. Disabled Police Officers Counseling Center
37. Children's Leukemia Research Association
38. United Breast Cancer Foundation
39. Shiloh International Ministries
40. Circle of Friends For American Veterans
41. Find the Children
42. Survivors and Victims Empowered
43. Firefighters Assistance Fund
44. Caring for Our Children Foundation
45. National Narcotic Officers Associations Coalition
46. American Foundation for Children With AIDS
47. Our American Veterans
48. Roger Wyburn- Mason & Jack M Blount Foundation for Eradication of Rheumatoid Disease
49. Firefighters Burn Fund
50. Hope Cancer Fund
This list was put together by the Tampa Bay Times and The Center for Investigative Reporting based on federal tax filings for the last 10 years. Charities are broken up into five main categories: children, cancer, police/law enforcement, veterans, fire and other. These fifty charities account for more than $1.35 Billion in donations. Of that, $970 million went not to victims, but to the people who collected the money.
I would suggest, before donating to any organization or individual, check and see what percentage of your donation goes to the intended source. 
In my opinion, the Salvation Army is one of the top charities to give to. 82% of every dollar they receive goes to the intended source.
COMPARISON
The president and CEO of the American Red Cross is Gail McGovern, her base salary has remained $500,000.00 plus perks and expenses.
"The Salvation Army's Commissioner Todd Bassett receives a salary of only $13,000 per year (plus housing) for managing this $2 billion dollar organisation.
Which one would you rather give to??
St. Jude is one of my favor charities. They do not charge the kids in their care, or their parents one thin dime for any and all of the services they receive, including, medical care, transportation, meals and lodging. 
Let us not judge all charities by a couple of scumbags; BUTT when you are walking down a long dark alley, always stop and look behind you.  CAUTIOUS is the key word.