Obama Foundation deal with Chicago calls for $10 fee on 99-year lease: reports
Tell me there has not been some cronyism and backdoor dealing going on between Old Pals and their organizers.
Rahm sure rammed it to The Windy City since he has been in office. Now he is adding one more notch to his pistol grip before he gets his hat.
The foundation behind the planned Obama Presidential Center in Chicago has a tentative agreement with the city to pay just $10 to use 19.3 acres of city park space for 99 years, according to a report.
That is a hell of a bargain for such prime real-estate.  This back-door plans had to be in the works for quite sometime.
At least Rahm has been consistent; he has demonstrated poor performance since day one. We have to keep in my he had an excellent teacher.
These people still do not want to come to terms that the PC way of governing does not work. It can not be denied by looking at the results.
McCarthy Slams Emanuel's 'Arrogance,' Hits Mayor's 'Record Of Failure'
https://chicago.cbslocal.com/…/garry-mccarthy-rahm-emanuel-arrogance-record-failu…
Mar 23, 2018 – CHICAGO (CBS) — A day after Mayor Rahm Emanuel tried to tie former … low approval in Chicago as the mayor's race begins to get into gear.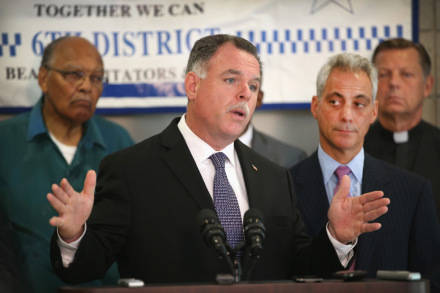 CHICAGO (CBS) – A day after Mayor Rahm Emanuel tried to tie former Chicago Police Supt. Garry McCarthy…
This ideology of theirs has to be in the top 10 of all time preposterous brain-storms.
theweek.com/speedreads/785340/obama-consider-universal-basic-income
Jul 17, 2018 – In his first major speech since leaving office, former President Barack Obama endorsed the idea of providing a universal basic income.
Obama and anyone else that endorses universal is not mentally competent. Anyone in their right mind would never suggest a behemoth like this that would be so detrimental to any government.
or unconditional basic income /ʌnkənˌdɪʃ(ə)nəl ˌbeɪsɪk ˈɪnkʌm/ an income that is provided by the government for all citizens or residents, without any obligation to work or look for work. … The universal basic income would ensure that everyone receives a guaranteed minimum income from the state.
Universal Income is just one example of how PC-ers like Rahm and Obama view governments should operate.  It is insanity.
I don't think that the average citizen ever stops to realize why so many people want to get into politics and what all of the benefits they derive from being in office at any level. If a politician plays their cards right, and most do, when they get their hat or bonnet and decide to retire, they are set for life.
I can guarantee one thing; a good percentage of those seeking public office do not have the interest of Joe and Jane Blow citizen in their sites. It is more for their prestige and personal gain. Naturally, the higher the level in politics, the greater the pay off is.  Many times the clandestine activities border on being or are criminal.
This deal Obama or his people put together with his Old Pal for renting the property is just one of the many example of cronyism. Is it illegal?? Not really, BUTT it definitely is unethical and not fair to the citizens. Did Obama and Rahm personally do a sit down to come up with the plan?? Absolutely not, that task for the grunts to handle.  That keeps the higher-ups hands clean.
The property in question is worth 10's of millions to the city, BUTT because Rahm and Barrack are such OLD PALS, the 19.3 acres is being leased to the Obama Foundation for 99 years for the astronomical fee of 10.00$.
I heard numbers for turn key construction that are ranging from 750 million to 1.5 billion. My question is, why would that kind of money be spent on any former president to memorialize them??  Especially if their accomplishments were questionable.